Headlines
Back > Headlines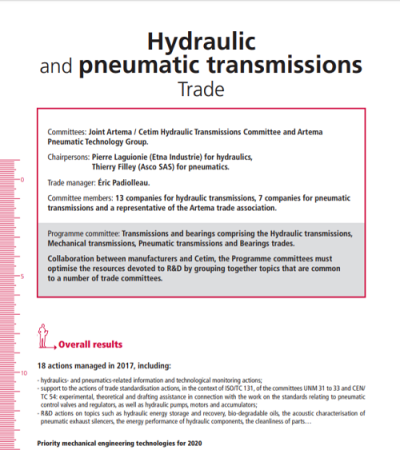 The latest work of the professional commissions are available in English on cetim.fr
The Cetim 2018 Commission sheets are available in English. 26 documents which summarise the results of 2017 and the prospects for 2018 in terms of R&D.
The results of actions conducted in 2017 and the prospects for 2018 are now available in English in the twenty-six 2018 Commission sheets! These translated documents are a considerable support for mechanical engineering companies wishing to transmit guidance materials within their subsidiaries or parent companies abroad or even in connection with an international expansion approach.
Each sheet, comprised of three or four pages, gives an overview of the professional Commission (chairman, sector manager, members, etc.) and a few examples of studies finalised in 2017 and which are still in progress in 2018. It points to the prevalence of certain topics requested by the professions: technological watch, additive manufacturing, non-destructive testing, robotised applications, the use of composites and connected objects.
Every year, Cetim's sector-based technological action brings together some 300 manufacturers from the mechanical engineering sector who take part in the technical commissions in charge of programming and steering the centre's work. There is ongoing dialogue and consultation with the professional organisations. A sector manager then ensures the daily management of the actions in connection with the technical teams.
The 26 summaries of the research actions per profession are available in English and can be downloaded from cetim.fr, in the "Mécathèque" section. The French versions are also available.
(06/12/2018)