Headlines
Back > Headlines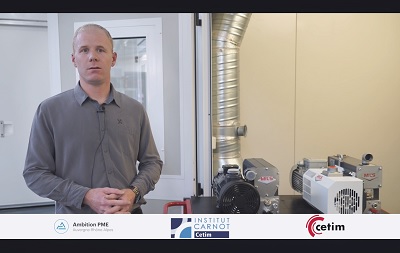 Mil's is a winner on all levels with eco-design
In connection with the "Compétitivité Durable – Produit Process" (Sustainable Competitiveness – Product & Process) programme implemented by its region, Mil's, a small Rhône-Alpes company, analysed and reviewed its flagship product in terms of eco-design. Watch its success story on the Cetim France YouTube channel.
Not only is eco-design good for the planet, it also helps to enhance competitiveness! One example of this is Mil's, a family-owned SME specialised in the design, manufacture and sale of compressors and vacuum pumps. Mil's talks about its experience in a video that has been posted on the Cetim France YouTube channel.
As a matter of fact, the SME embarked upon the regional action programme for access to eco-design "Accès Rhône-Alpes Écoconcevoir", initiated by the Rhône-Alpes region with support from Ademe and Cetim and then took part in the CD 2 Pro programme, spearheaded by the Auvergne-Rhône-Alpes region. "Practically speaking, this heightened competitiveness allowed us to win contracts that we never imagined attainable", explained Christian Pic, Chief Operating Officer of Mil's.
A replicable success
With the assistance of the Cetim team, which provided training on the eco-design method, firstly with the Atep software and then with the Altermaker Ecodesign Studio software, the company analysed the environmental impact of its flagship product then determined the actions to be implemented to increase performance, while improving its environmental impact. This resulted in increased efficiency, a lighter-weight streamlined product requiring fewer assembled parts. "Based on the success of the product, we have decided to disseminate it within the company and therefore train design office staff on how to apply this method to other projects", commented Alexis Gilles, R&D Engineer and Head of the Design Office.
Watch the video "CD2PRO - Mil's wins on all levels with eco-design" on the Cetim France YouTube channel.
Additional information about this application is available in the reference sheet "Mil's – A winner on all levels with Ecodesign Studio"
(12/21/2017)