Headlines
Back > Headlines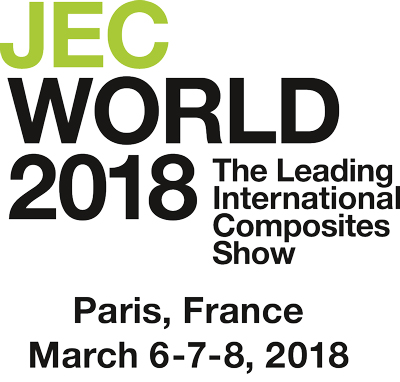 JEC World : Cetim composite solutions win suppor
From « Design to Cost » software solutions to high speed parts manufacturing for the automotive and aeronautics sectors, and composite recycling, Cetim's solutions to market needs are showcased at JEC World 2018.
And it's a double win! Two composite solutions developed by or with Cetim are finalists at the JEC Awards 2018, which shall take place at the JEC World international composites show, on March 6-8, 2018 in Paris-Nord Villepinte. The first, the R&D Composites and Recycling pilot platform of Cetim-Cermat opens up new perspectives for valorizing thermoplastic composites and plastics. Modular, it allows both recycling of production waste and waste from end-of-life products, without altering the mechanical characteristics of the materials. The model is on display at the Makeit real Planet area. The second finalist solution, a life-size thermoplastic airframe demonstrator, developed by Stelia Aerospace; Called "Arches Box TP", it evaluates use of high performance thermoplastics in a next generation narrow body aircraft. The parts are manufactured with Cetim's QSP (Quilted Stratum Process) high-speed composite production process. This innovation can be viewed at the Planet Aéro space at the show.
New this year: to select the ten winners out of the thirty finalists, in addition to the traditional jury of international experts, the public can vote ! If you would like to vote, please click here
A composite bumper beam
A composite bumper beam, another product demonstrator made with the Cetim Quilted Stratum Process (QSP), is showcased at the Planet Auto Space at JEC World. QSP is used to produce this beam, an alternative to a metallic part, with optimized mechanical performances and characteristics in compliance with automotive specifications. And above all this part is 30% lighter than its metal equivalent and offers production rates of 300000 parts per year!
« Design to Cost » at conferences
Finally Cetim introduces « Quilted Stratum Design » (QSD), its « Design to Cost »software solution making it easy to optimize composite parts and presented at two plenary conferences on March 6 th.
A world premiere and the fruit of several years of research in collaboration with Onera and Altair, QSD is based on a unique method which makes it possible to simply and quickly identify the optimal performance level of a part, for a given material and manufacturing process.
The QSP process will also be featured at a conference, delivered in common with the chemical company, Arkema, on March 7 on the theme, « Development of the use of thermoplastic composites in aeronautical applications. »
Find out more information on the three day program of events on our site in the section « Agenda ».
(02/16/2018)