Headlines
Back > Headlines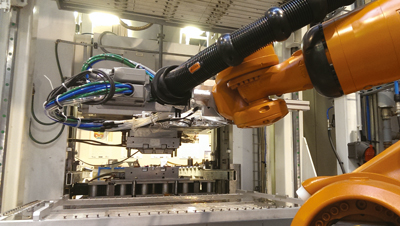 Composites: French technology is being exported
Composite parts mass-produced at speeds authorised for the automobile sector has become a reality.
This has been tangibly demonstrated over the past few weeks by the signing of the first international contract for the Quilted Stratum Process (QSP). The journey began in April when a Chinese delegation from the Liaoning region visited Technocampus composites with a view to acquiring the QSP technology. The visit was led by Pinette Emidecau Industries (PEI), Cetim's partner alongside LoireTech et Compose. The Liaoning region is home to Faw Plate, a subsidiary of Faw, 3 rd ranking Chinese car manufacturer. Faw Plate is seeking partnerships in Europe in order to accelerate its developments centred on electric vehicles. The production of composite parts is in line with this ambition; accordingly, the sturdiness and relevance of the QSP process needed to be proven. Many negotiations were then held over the year with an initial phase in July involving the design and manufacture of some one hundred rear bumpers, resulting in the signature of the contract!
This success was achieved with the additional proof of the potential to be gained from the process, i.e. the latest demonstrator developed by Cetim. In partnership with Snop, a stamping company, the centre designed and produced a composite bumper beam that is 30% lighter than its metal equivalent and can be produced at a rate of 300,000 parts per year. As a further advantage, the part is not only lighter, a necessary prerequisite with regards to antipollution standards, its optimised mechanical properties and performance meet the standards dictated for this type of equipment (ECE42, CEE-R42, EuroN-CAP standards).
Learn more by watching the video made in 2017.
(04/12/2018)