Headlines
Back > Headlines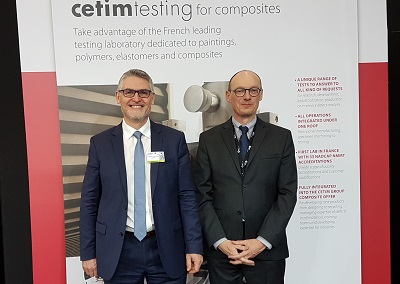 Cetim unveils Cetim Testing, its comprehensive solution for industrial measurements and tests
During JEC World Paris 2018, the Cetim Carnot Institute announced the full takeover of its subsidiary, Etim, and the launch of "Cetim Testing", a range of services dedicated to recurrent measurements and tests for all industrial markets of the transport, energy and mechanical engineering sectors.
Cetim Testing, the solution unveiled by Christophe Champenois, from Cetim and Emmanuel Vassort, Deputy General Manager of Etim, on 7 March 2018 at JECWorld 2018, offers three key benefits: a unique range of tests covering 33 NADCAP NMMT accreditations, full integration within its overall offer and international coverage.
With regards to composites and polymers, Cetim Testing leverages on the grouping of Etim's (the now wholly-owned dedicated testing subsidiary) and Cetim's laboratories which are more broadly open to the expert investigation of paints, polymers, elastomers and composites for the industrial market. With 33 accreditations, the expertise and resources that are aggregated within the Technocampus Composites site in Nantes Bouguenais (Loire-Atlantique, France) make it the leading national platform for polymer and composite characterisation and testing with regard to Nadcap accreditations. It possesses one of the largest ranges of mechanical, physical-chemical and aging tests accredited by the major players of the aerospace industry. This grouping is now the backbone of Cetim's overall offering for the design, manufacturing, inspection, recycling and expert investigation of tomorrow's multi-material parts.
Comprehensive, multi-material and international services
Testing, as Cetim's historic business activity, representing 40% of its turnover with over € 30 M per year, aggregates the recurrent measurement and testing services required to develop and characterise the production of mechanical parts, relating to all types of materials such as composites, polymers or metallic materials. As a matter of fact, there has been a marked upturn in demand, owing in particular to increased production volumes in the aerospace sector and to the dissemination of additive manufacturing.
Cetim Testing is already serving these markets on a national and international level due, in part, to facilities located in Morocco and Asia. In Casablanca, Cetim-Maroc, a Nadcap accredited facility with over 20,000 tests per year, is now the leading metallurgical and mechanical testing analysis laboratory for the aerospace industry in Africa and the Arab world. Backed by the recent agreement entered into with KMTL, Cetim Asia-Pacific provides support to industrial manufacturers in this region, offering them a broad selection of high-level solutions and services related to composites and metallic materials. At present, Cetim works in close cooperation with all industrial sectors, especially the aerospace and motor vehicle industries, where the reduced weight of the structures is a major challenge.
(03/09/2018)