Headlines
Back > Headlines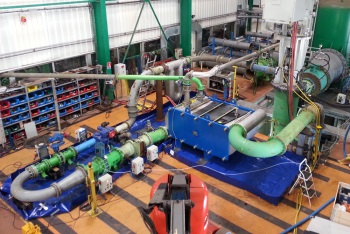 Cetim becomes a key partner in the Oil and Gas sector
With the help of Cetim, Eureka Pumps, a Norwegian manufacturer, performed unprecedented tests on a large‑size oil extraction pump. A "Success Story" worth reading and watching which demonstrates Cetim's abilities to support companies of the Oil & Gas sector throughout the world with their large-scale projects.
The challenge met by Eureka Pumps, a Norwegian pump manufacturer, and Cetim involved reproducing the cold start of the large-size oil drilling pump in extreme temperature conditions. For that purpose a two-ton pump was installed in Cetim's facilities in order to run unprecedented tests with a liquid with a viscosity 1,000 times that of water. The objective was to validate the sizing of a future drilling facility to be located off the Canadian coasts and, more importantly, to ensure the pump's ability to start with very high viscosity levels in polar temperatures.
To find more on this application case which is representative of Cetim's ability to support industrial companies of the Oil & Gas sector, read our reference sheet "Eureka pumps - Tests of giant pumps in real conditions"in the "References" section of our website, or watch the video "Eureka Pumps: validate the start of a pump in severe weather conditions"on the Cetim France YouTube channel.
Cetim's offer for the Oil & Gas sector ranges from exploration and production to refining and includes crude oil transport. It is also presented in its entirety on a page dedicated specifically to this sector in our website.
(10/09/2018)