Headlines
Back > Headlines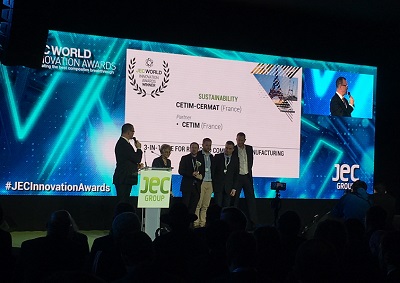 Cetim-Cermat wins an award at JEC World!
Cetim-Cermat's modulable platform for the recovery of thermoplastic composite waste and recycled plastic materials received the JEC Innovation Award in the "environment" category.
A fine win for Cetim-Cermat at the 2018 JEC Innovation Awards ceremony. As one of three finalists, with the other two being Arkema and the Italian centre GS4C, Cetim-Cermat received the "environment" prize for its modulable solution for the recovery of thermoplastic composite waste and recycled plastics.
Cetim-Cermat's pilot R&D "Composites and Recycling" platform was inaugurated in October 2017 in Mulhouse (Haut-Rhin, France) and opens up new avenues for the recovery of thermoplastic composites and plastic materials. As a matter of fact, the modulable platform uses a single machine to offer three ways of recovering these materials: the manufacturing of recycled plates from thermoplastic composites, Upcycling (a process which transforms reused products into higher quality materials) of non-filled thermoplastics into fibre boards and the creation of shaped parts.
After the QSP, the first high speed production line of thermoplastic composites, this new innovation confirms the major role played by Cetim with industrial manufacturers for the adoption of these high-potential materials with a global market that should exceed 10 billion dollars by 2020! Cetim offers industrial manufacturers tailor-made innovative solutions to reduce their costs, optimise their cycle times and now integrate sustainable development into their projects. Through its commitment to R&D, Cetim is also instrumental in knocking down the barriers to the roll-out of composites, inter alia in the motor vehicle, aerospace and energy sectors.
Watch the video "A new way of recycling thermoplastic composites and plastics" on the Cetim France Youtube channel and obtain additional information regarding the Cetim-Cermat pilot R&D "Composites and Recycling" platform on our website in the "News" section.
(03/08/2018)