Headlines
Back > Headlines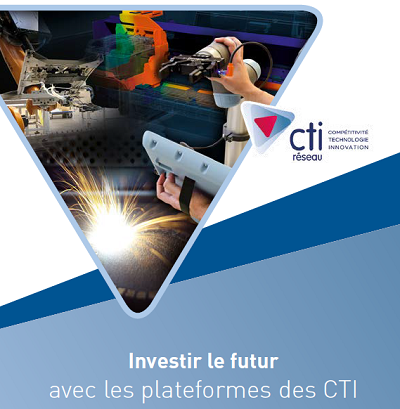 A guide to take on the future with the CTI platforms
30 CTI technological platforms have been identified in a guide for SMEs. The aim is to enable them to develop, validate, characterise and test the products and processes of the future on locally accessible equipment and facilities.
The French CTIs (technical industrial centres) are doing their share for the industry of the future by providing SMEs with access to 30 technological platforms. In addition, they have prepared a guide to help SMEs navigate their way through the available services. The guide draws on "user itineraries" to offer SMEs the opportunity to receive assistance from a CTI for the development of new products or in the use of cutting-edge technology. These platforms are distributed across France and thus provide skills and resources in ten areas: multi-material assembly, sustainable construction, non-destructive testing (NDT), additive manufacturing, metallic materials, plastics and composites, energy and environmental efficiency, robotics and cobotics, machining and product innovations.
A user itinerary
Through this guide, the CTIs highlight the tailored services that they are able to offer to SMEs over all or part of a value chain. Accordingly, the "user itinerary" for a given platform describes all that said platform is able to provide in terms of the challenges and goals for the company. For instance, at an additive manufacturing platform, SMEs can work on the design of the part, the selection and characterisation of the material as well as the production of small batches.
The guide is broken down into three sections. The first section describes a "user itinerary" for a company that is assisted by a CTI. The second section features a presentation of the platforms, grouped under ten Industry of the Future headings. Each presentation sheet sets out the skills and expertise of the CTI which are offered on the platform as well as the equipment and the conditions of access. It also provides key information on the platform such as its geographic location, the sponsor, its use, the invested capital and the partners. Finally, the third section of the guide outlines the six competitiveness stakes of the Industry of the Future.
The CTI network has coordinated all actions for the development of this joint solution with a view to assisting companies in their modernisation process, under the aegis of the Industry of the Future Alliance (AIF).
(03/23/2018)